YOUTH IMPORT *PSYCHO @ 18 MONTHS*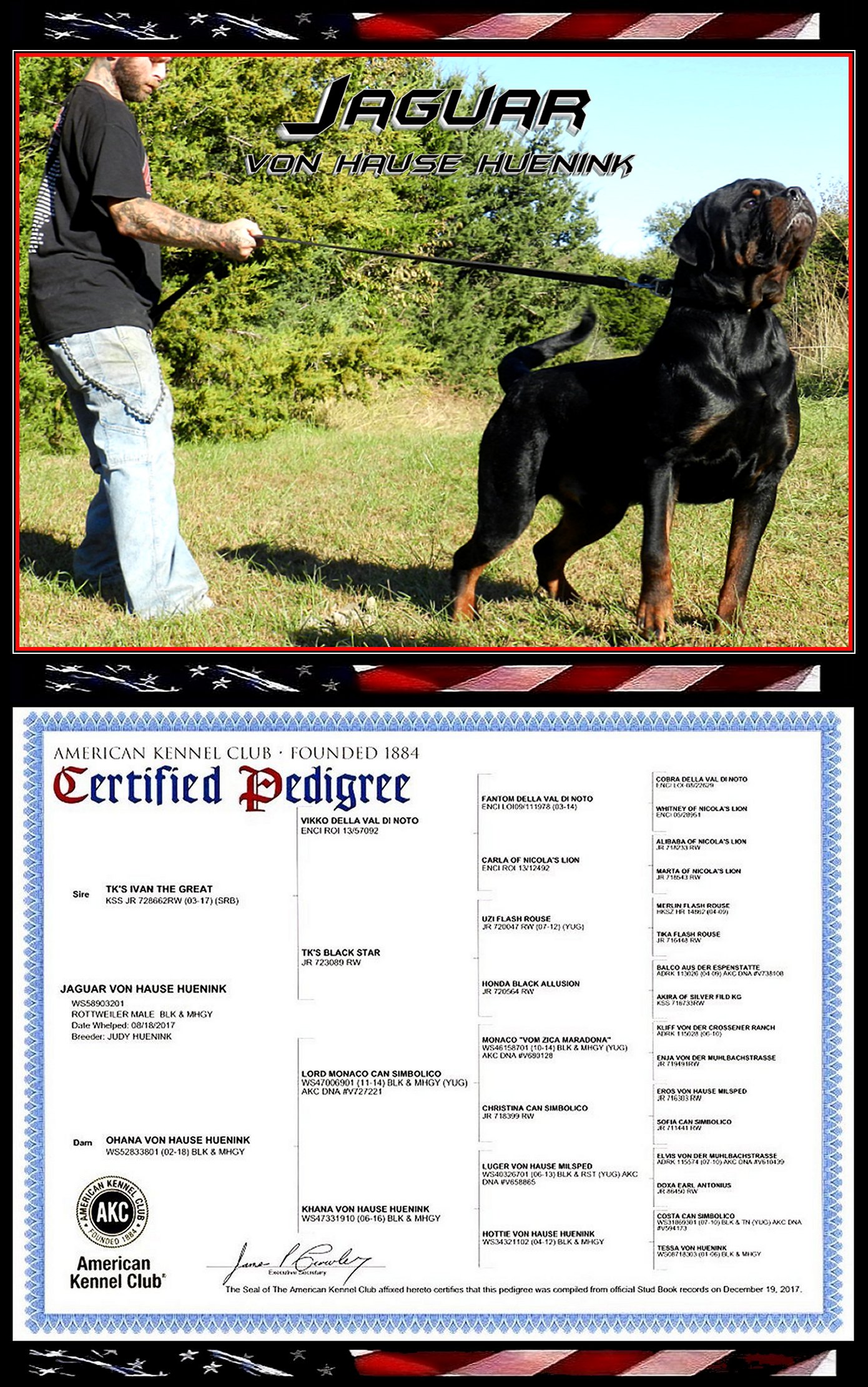 *PSYCHO VON HAUSE MILSPED*
(ASTOR VON JUNIPERA x DIVA VOM AGRAM BERG)
PSYCHO IS PICTURED ABOVE AT JUST 18 MONTHS OLD!
*HE IS THE SON OF 2010 IFR WORLD CHAMPION*
****ASTOR VON JUNIPERA****
*PSYCHO IS ALSO GR-SON OF 2010 IFR V3 WORLD WINNER*
***OSCO VOM EDELSTEIN***
Thank you Vesna Knezevic & family of Von Hause Milsped Kennel
for sending us Another Exceptional World Class Super- Sire!
IMPORT *LORD MONACO CAN SIMBOLICO*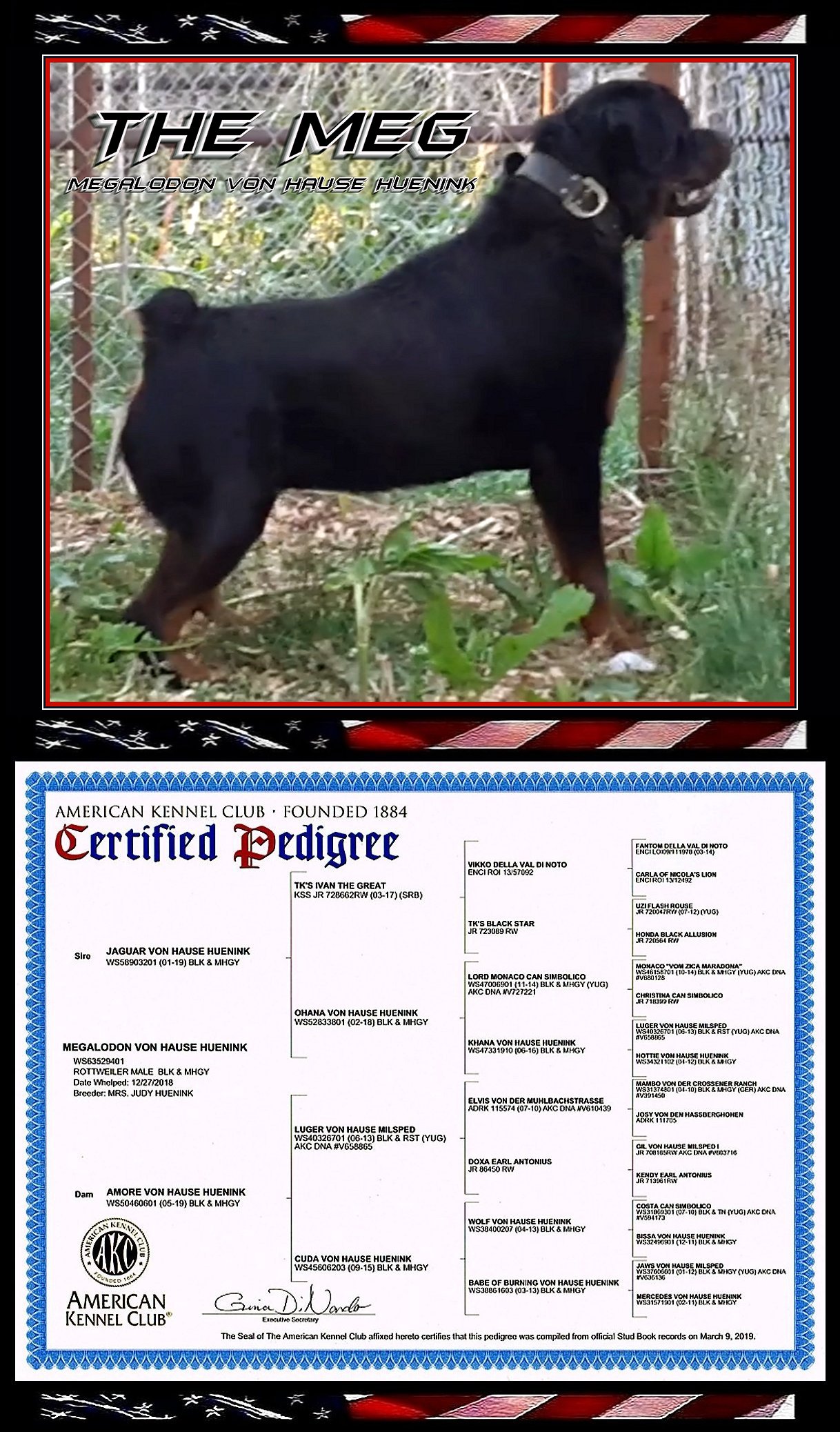 *LORD MONACO OF CAN SIMBOLICO*
(MONACO VOM ZICA MARADONA x CHRISTINA CAN SIMBOLICO)
LORD MONACO IS PICTURED ABOVE AT JUST 13 MONTHS OLD!
*ANOTHER WORLD CLASS SUPER-SIRE ADDED TO OUR BREEDING PROGRAM*
*CHECK BACK FOR UPDATES ON THIS YOUNG IMPORT SUPER-SIRE*
MULTI-WORLD CH. LINE SUPER-SIRE *COSTA*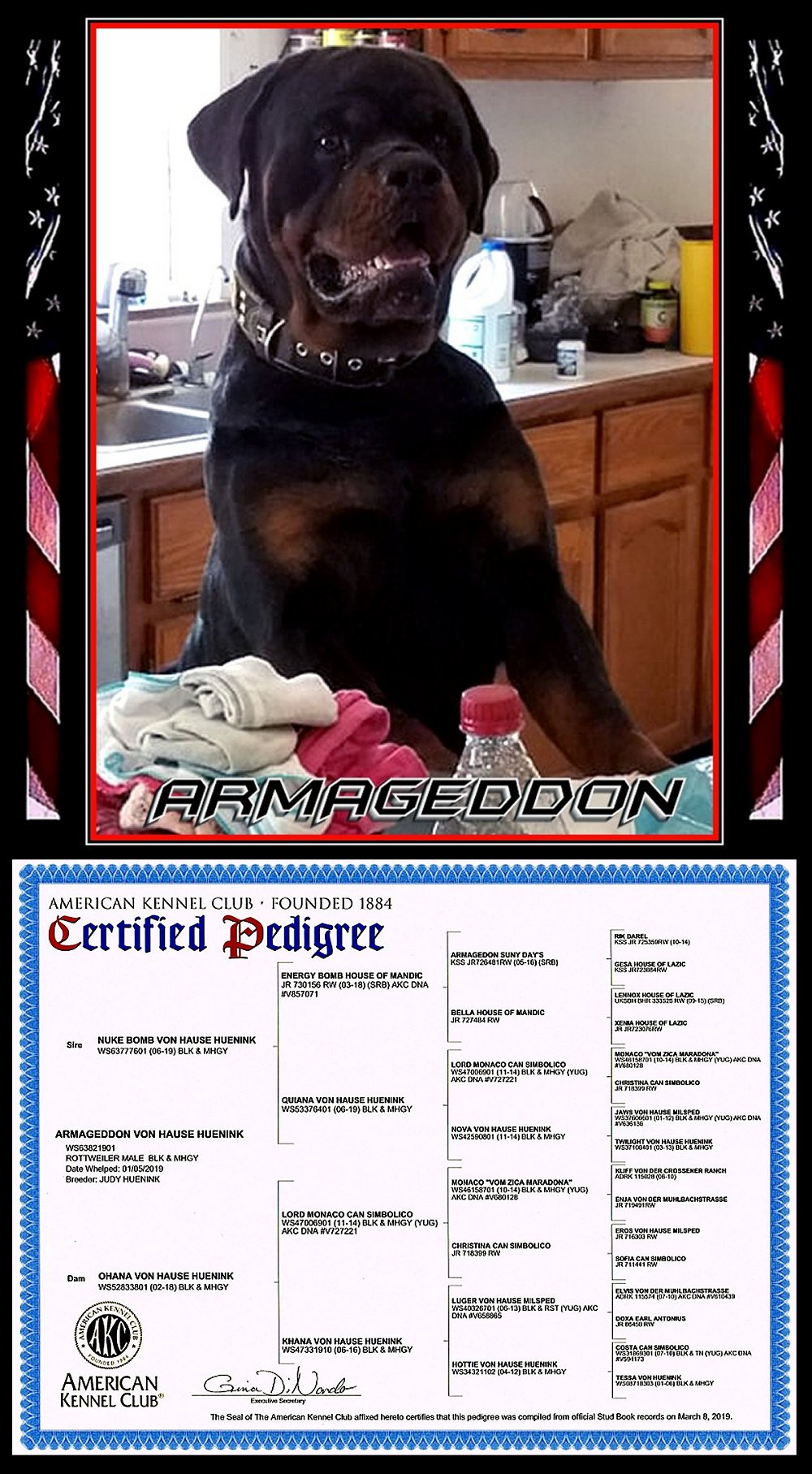 YOUNG SUPER GIANT CHAOS @ 16 MONTHS OLD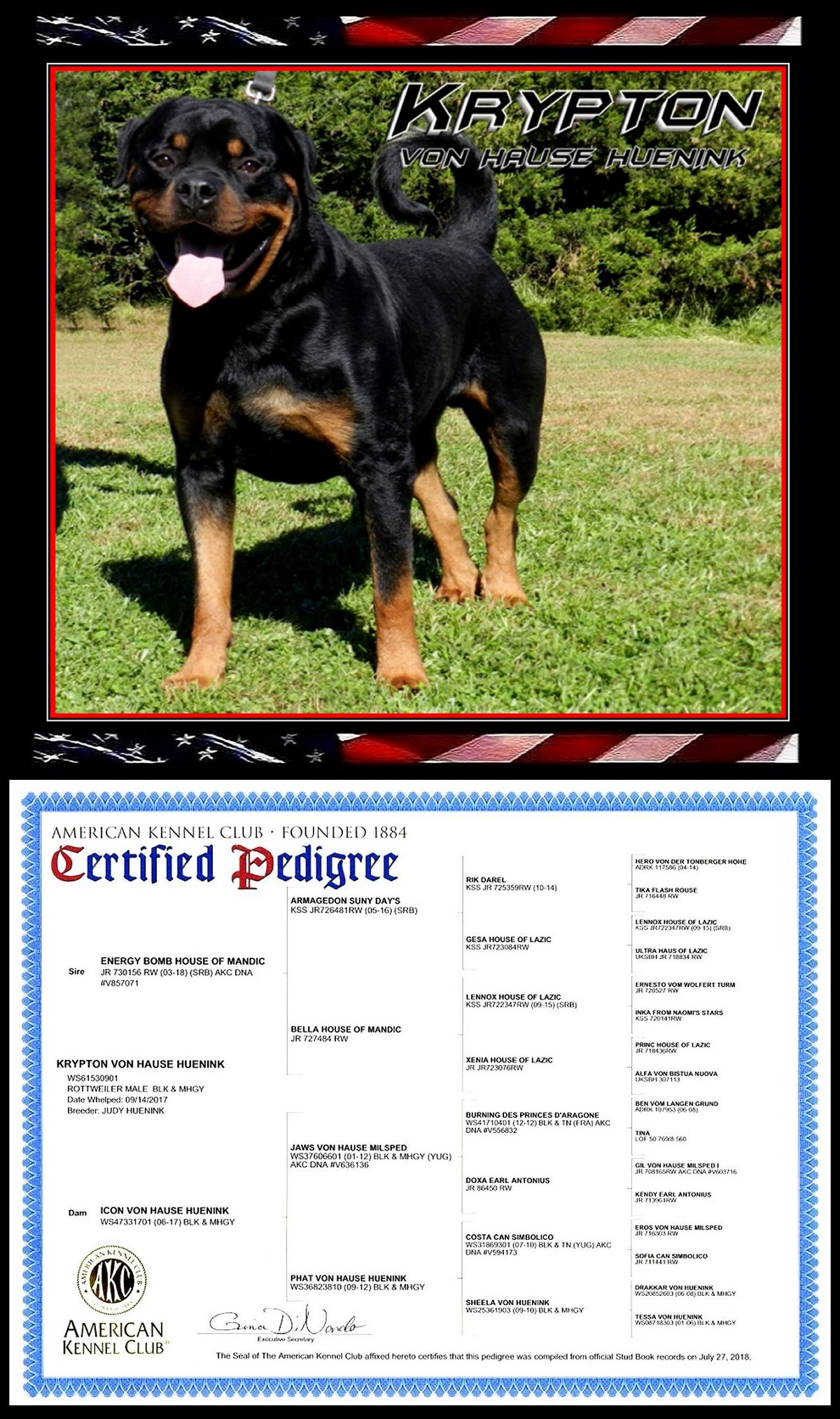 ☆☆☆OUR GORGEOUS YOUNG SUPER GIANT☆☆☆


☆☆☆CHAOS VON HAUSE HUENINK☆☆☆
(WOLF VON HAUSE HUENINK X BABE VON HAUSE HUENINK)
CHAOS IS PICTURED ABOVE AT JUST 16 MONTHS OLD!
CHAOS IS THE LARGEST & STRONGEST YOUNG MALE
WE HAVE EVER SEEN OR PRODUCED!!!
CHAOS IS PICTURED JUST TURNING 16 MONTH OLD!
CHECK BACK FOR MORE PICS & INFO ON OUR YOUNG SUPER BRUTE CHAOS!
WORLD CH. LINE SUPER-SIRE *JAWS*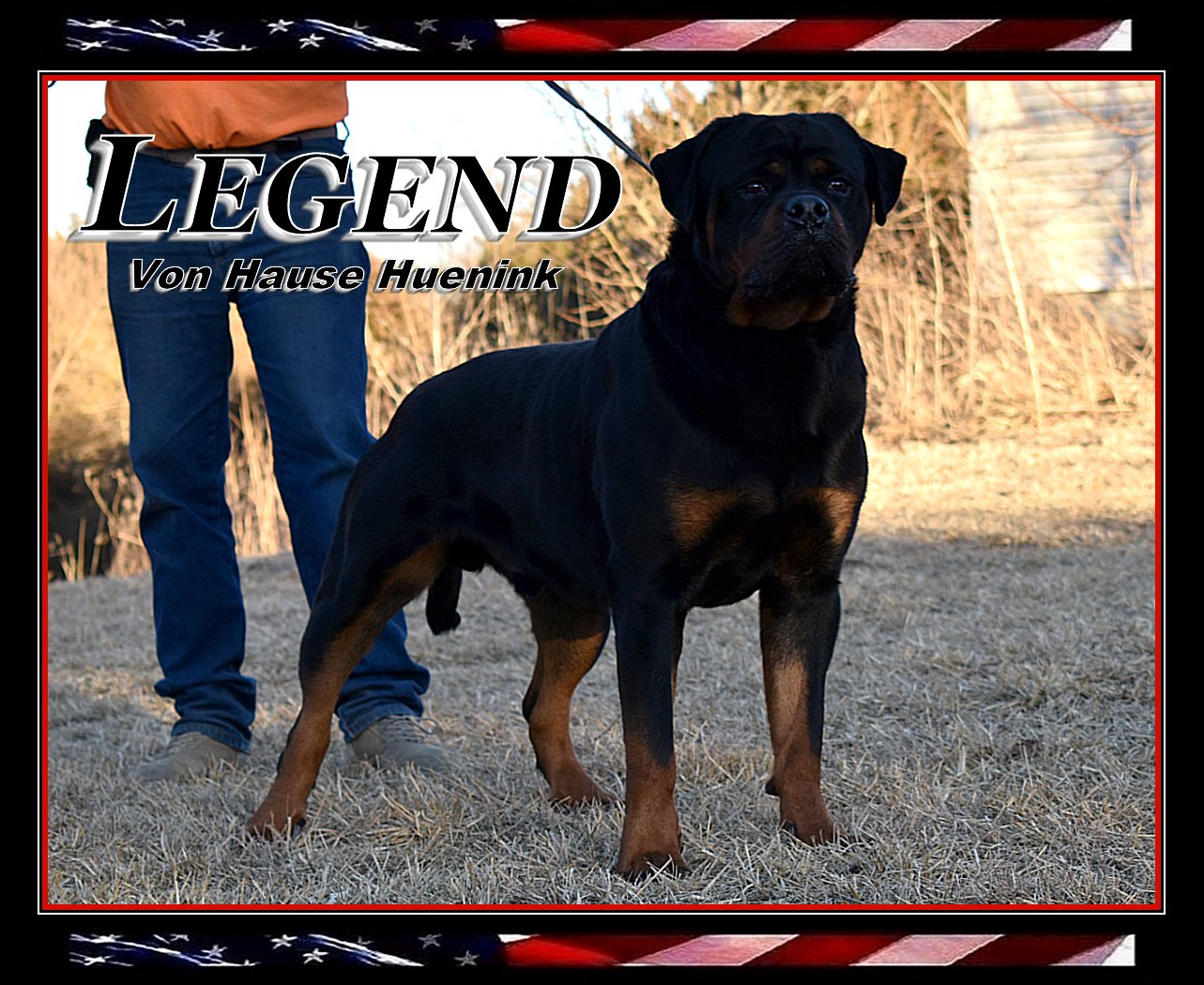 *IMPORTED SUPER-SIRE*
JAWS VON HAUSE MILSPED (AKA BIG RIG)
IS SON OF 2009 & 2012 WORLD CHAMPION
BURNING DES PRINCES D'ARAGONE
JAWS SIRE BURNING IS RATED BY NUMEROUS TOP EUROPEAN JUDGES
AS THE #1 LIVING ROTTWEILER IN THE WORLD TODAY!
BURNING WINS 2012 IFR WORLD CHAMPIONSHIP!!!!!!!!
*VIDEO OF JAWS SIRE BURNING PRESENTATION 2012 IFR WORLD SHOW*
SERBIAN CHAMPION SUPER-SIRE JIMMY

IMPORT SUPER-SIRE *LUGER* @ 3 YEARS OLD

YOUTH IMPORT ROMEO @ 10 MONTHS OLD

WOLF VON HAUSE HUENINK
☆WOLF VON HAUSE HUENINK☆


☆☆☆WOLF IS PICTURED ABOVE AT JUST 29 MONTHS!☆☆☆
OUR MASSIVE WOLF IS 3/4 LINE BRED ON 2001 IFR WORLD CHAMPION
*****BRONKO OD DRAGICEVICA*****
****************************************
WOLF IS ALSO GR-GRANDSON OF THE LEGENDARY
*****GIL VON HAUSE MILSPED*****
WOLF IS ALSO 2X LINE-BRED ON OUR FOUNDING GIANT STUD KHAN!
AND A GRANDSON OF OUR MASSIVE ZHAR!
WOLF FROZEN SEMEN NOW AVAILABLE!
Visit Our Puppy Picture Gallery
Frequently Asked Questions?
Puppy Contract & Guarantee